Morgan Freeman AND Sir Sean Connery to MC your BIG event. Together!
We call it the 'Double Barrel – Double Take' MC's.
Just like the Oscars.
We can also bring a Hollywood themed show.
Femme fatale singers, hostesses et al.
It's new – it's available.
Enquire NOW for 2012/13
.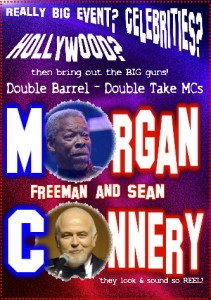 Click on this link below to see and hear OUR Morgan Freeman!